Callaway Epic Flash SUB ZERO Driver (2019)
The Epic Flash Sub Zero Driver is the ultimate combination of low-spin and high MOI in a driver, and it's led by our new Flash Face Technology.
Low spin and high MOI define the Callaway Epic Flash Sub Zero Driver. Flash Face Construction – the first known application of A.I. in golf equipment – employs data from over 15,000 face architecture iterations to strategically place dozens of subtle ripples on the back of the face to generate distance gains. Jailbreak Technology uses two internal bars to stabilize the crown and sole for greater ball speed. The T2C Triaxial Carbon Crown combines with Adjustable Perimeter Weighting and a fixed, forward sole weight to promote optimal weighting and customization. The Golf Pride New Decade ALIGN Grip features a green ridge down the back to aid in hand placement and alignment.
Selecting Your Model – Callaway Epic Flash vs. Epic Flash Sub Zero:
Callaway Epic Flash Driver 16g Adjustable Perimeter Weighting system gives golfers power to easily promote draws, fades or a straighter flight
Callaway Epic Flash Sub Zero Driver Adjustable Perimeter Weighting system gives golfers the power to easily promote draws, fades or a straighter flight. Visible fixed weight pulls CG lower and forward to reduce spin
Flash Face – Artificial Intelligence, Real Ball Speed: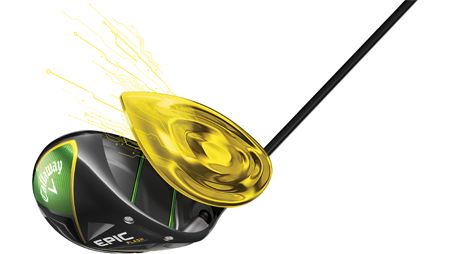 Callaway engineers used Artificial Intelligence and machine learning to create a radically different face design
Machine Learning enabled Callaway to cycle through 15,000 face architecture iterations before arriving at Flash Face
Dozens of subtle ripples – flowing from heel to toe – work together to elevate COR in the face's center region
Distinctive topography on inner side of face forged from titanium and heat treated at 1100° F to maximize flexibility, speed and strength
Jailbreak Technology for Faster Ball Speed:
Revolutionary technology designed to promote fast, face-wide ball speed for elevated performance
Two internal, hourglass-shaped Jailbreak bars connect the crown to the sole, stabilizing and stiffening those points at impact
Greater stability and stiffness allows face to take on greater impact load, resulting in explosive ball speed
High MOI / Low Spin Head Design:
A.I. and machine learning helped create the Epic Flash Sub Zero head profile to optimize technological function
Advanced shaping and internal weighting create a low-spinning, high-MOI player's driver for forgiveness with distance
Visible weight embedded forward in the sole pulls CG lower and forward to reduce spin for greater control
New T2C Triaxial Carbon Crown for Higher MOI:
New Triaxial carbon fabric – T2C – utilizes a tighter weave than previous generations
Weight saved from the crown and strategically repositioned in the head for heightened MOI
Adjustable Perimeter Weighting for Ball Flight Control:
Adjusting the position of the 12g sliding weight allows golfers to promote neutral, draw or fade biased flight
OptiFit® Hosel allows for a combination of 8 different loft and lie configurations for even greater customization
Mitsubishi Tensei AV Blue 60 Graphite
| Manufacturer | Flex | Shaft Weight | Torque | Kickpoint |
| --- | --- | --- | --- | --- |
| Mitsubishi | Regular | 65 | low-mid | mid |
| Mitsubishi | Stiff | 67 | low-mid | mid |
| Mitsubishi | X-Stiff | 68 | low-mid | mid |
Mitsubishi Tensei AV Blue 70 Graphite
| Manufacturer | Flex | Shaft Weight | Torque | Kickpoint |
| --- | --- | --- | --- | --- |
| Mitsubishi | Stiff | 77 | low-mid | mid |
| Mitsubishi | X-Stiff | 78 | low-mid | mid |
---
We Also Recommend