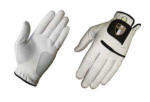 Ladies USG Ulti-Grip Microfiber Synthetic Glove Right Hand (ALL SIZES Available)
Hydrolyte® microfiber synthetic has been designed to actively wick moisture away from your hand. Soft and durable, and now extra-breathable.
Microfit spandex at the knuckle area allows your hand to flex more comfortably as you grip the club. Spandex in the fingers expands or contracts to fit the unique contours of your hand.
Specially designed Hydrolyte® microfiber synthetic breathes and helps move moisture away from your hand. A unique digitized pattern has been embossed on the surface to make your grip more effective.
Cabretta leather reinforcements located on the palm and thumb areas prolongs the life of your glove.