SRIXON ZX5 Mk II Irons - Steel Shaft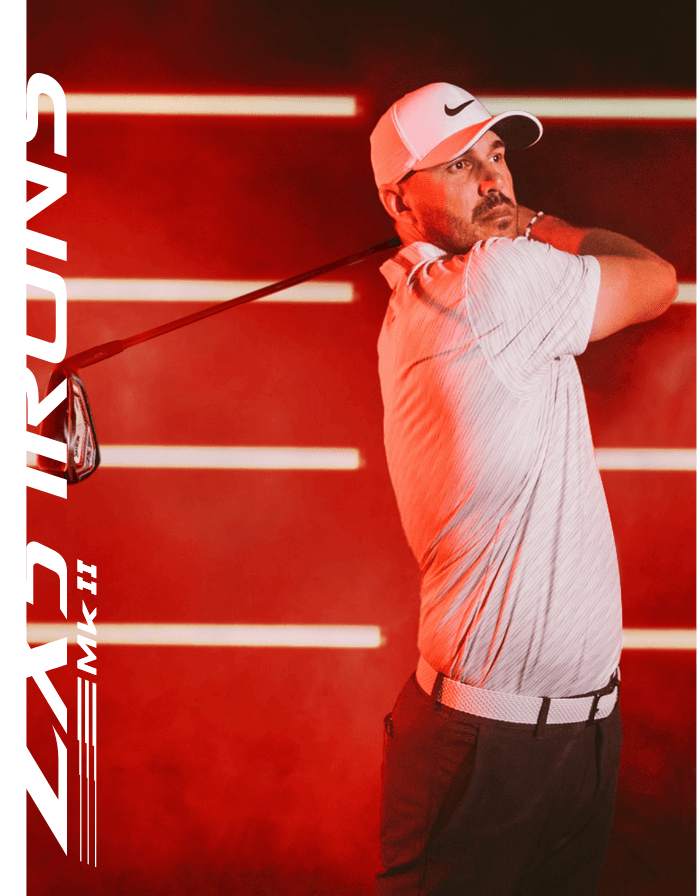 FAST AND
PURE
New ZX Mk II Irons are a culmination of fast and pure. A pure feeling at impact, for purer strikes, and a pure sound. With tech-driven ball speed in every number, energizing every shot.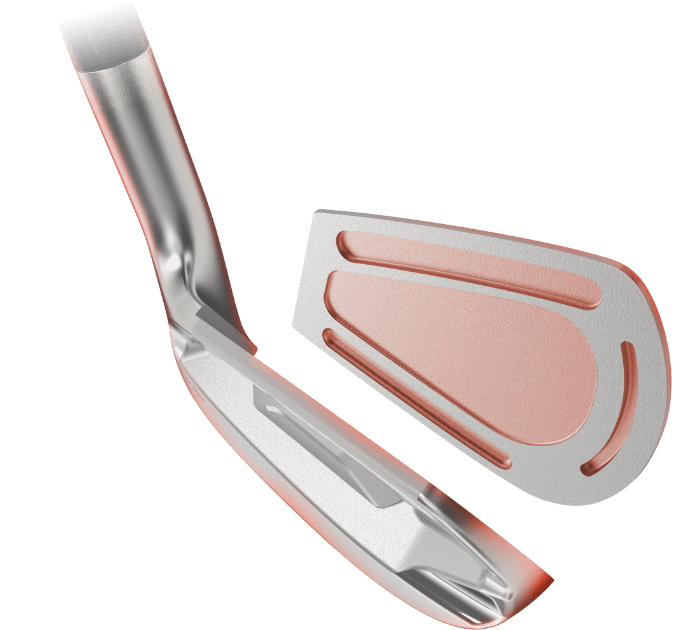 MAINFRAME
MainFrame is a variable thickness pattern of grooves, channels, and cavities carefully milled into the backside of ZX4 Mk II, ZX5 Mk II, and ZX Mk II Utility Iron faces that maximizes flex at impact. MainFrame not only boosts COR, it also repositions mass away from the face and into the toe and sole for a lower Center of Gravity. This creates more than just faster ball speed, but also more consistency and forgiveness, enhancing all aspects of your Iron play, shot for shot.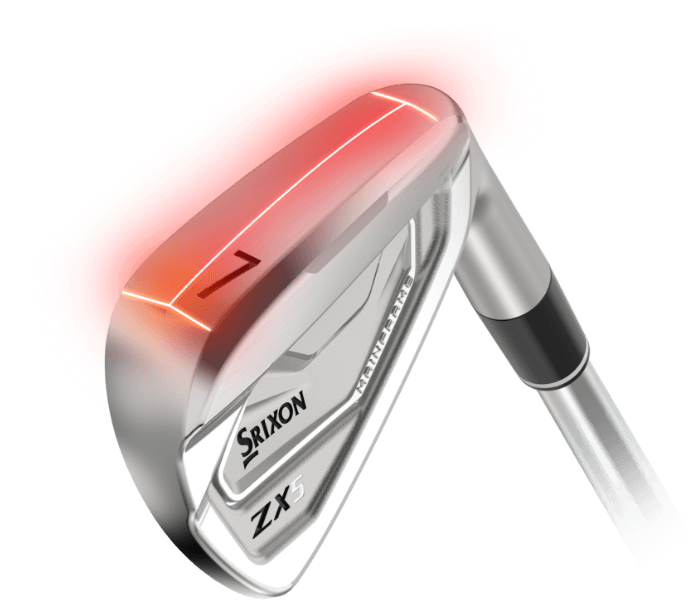 TOUR V.T. SOLE
Our dynamic Tour V.T. Sole helps maintain clubhead speed through impact for clean strikes across fairway, rough and sand—even if you contact the turf slightly behind the ball. A higher bounce on the leading edge prevents digging; then, a lower bounce on the trailing edge curves away from the turf, so you can still manipulate face angle for maximum workability.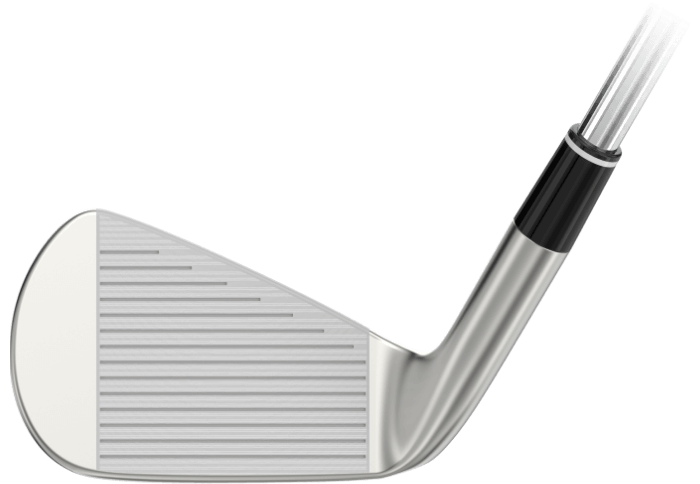 PROGRESSIVE GROOVES
The 3i–7i feature wide grooves, ideal for longer shots in all conditions. The 8i–AW have deeper, closer set grooves which cut through grass and debris to enhance spin on approach shots. Laser milling between each groove, on every loft, enhances friction in all conditions. The result is congruency across the set, as spin, distance, and launch window remain as consistent as possible.
PLAYERS
WORKABILITY

A players Iron with tour-preferred looks and the pure feel of a forged blade, offering total control on every shot.

ENHANCED
DISTANCE

The perfect union of razor-sharp looks, power, and playability—combining premium forged feel with distance technology.

MAX
FORGIVENESS

Presents a sleek, narrow look at address, plus forged feel. But behind that clean aesthetic is hollow-Iron forgiveness.

LONG-IRON
REPLACEMENT

A tour-proven long Iron alternative, featuring control and elevated launch in a forged, hollow design.

Handicap
Low
Low-Mid
Mid-High
Low-Mid
Forgiveness
Low-Mid
Mid-High
High
High
Trajectory
Mid
Mid-High
Mid
High
Workability
High
Mid-High
Low-Mid
Mid
Distance
Mid
Mid-Long
Long
Long


SPECS
STEEL SW
HEAD
LOFT
LIE
OFFSET
LENGTH
KBS
3
20°
60°
4.2mm
39"
D1
4
22°
60.5°
4.0mm
38.5"
D1
5
24°
61°
3.8mm
38"
D1
6
27°
61.5°
3.5mm
37.5"
D1
7
31°
62°
3.2mm
37"
D1
8
35°
62.5°
3.0mm
36.5"
D1
9
39°
63°
2.7mm
36"
D1
PW
44°
63.5°
2.3mm
35.5"
D1


SHAFTS
KBS TOUR LITE
The KBS Tour Lite shaft helps ZX4 and ZX5 Irons deliver a strong launch, increased spin, and a soft landing. This mid weight shaft design promotes an easy swing tempo and satisfying follow-through while taking full advantage of each Iron's distance-boosting technologies.
| FLEX | WEIGHT | TORQUE | TIP DIAMETER | BUTT DIAMETER | LAUNCH | SPIN |
| --- | --- | --- | --- | --- | --- | --- |
| S | 100g | 2.3° | .355" | .600" | High | High |
| R | 95g | 2.5° | .355" | .600" | High | High |


UST MAMIYA RECOIL DART 75/65


UST Mamiya's Recoil Dart shafts now come standard as a graphite offering for ZX5 Mk II, ZX4 Mk II, and ZX Mk II Utility Irons. The new DART technology (Dual Action Recoil Technology) helps provide greater overall consistency, an optimal feel at impact, increased ball velocity, and precise ball flight for all golfers.
| FLEX | WEIGHT | TORQUE | TIP DIAMETER | BUTT DIAMETER | LAUNCH | SPIN |
| --- | --- | --- | --- | --- | --- | --- |
| S (F4) | 78g | 3.9° | .355" | .600" | High | High |
| R (F3) | 64g | 5.2° | .355" | .600" | High | High |
| A (F2) | 61g | 5.2° | .355" | .600" | High | High |


GRIP
GOLF PRIDE TOUR VELVET 360

The #1 choice of the world's best for years, Golf Pride Tour Velvet 360 Grips are stock for each ZX Iron. The 360 variant has less intrusive logos, a state-of-the-art rubber-blend compound, and a nonslip surface pattern for maximum playability.
| SIZE | CORE | WEIGHT |
| --- | --- | --- |
| Standard | .580" | 52g |
Combination Sets can me made and ordered through  Custom. To request a custom build please email LeftiesOnly@comcast.net or you can call 800-533-8437 OR 802-862-1114
ZX MK II COMBINATION SET GUIDE
Fine-tune your Irons lineup by custom ordering one of our acclaimed Combination Sets. Dial in your long and short Irons by blending the models that fit your swing, your strike, and your playstyle. Each ZX model features differing degrees of workability, launch height, and forgiveness—but they all share a singular design language and identical topline widths, making for seamless mixtures.
More forgiveness to help score your best. This combo set of cavity back short and hollow long Irons is perfect if you prefer to attack the pin head-on. Ordered as custom, suggested sets are 4i–6i or 4i–7i in ZX4, and 7i–PW or 8i–PW in ZX5. Other combinations are also available.
The best of both worlds. The ZX5 + ZX7 set is an uncompromising combination of distance in your long Irons and workability in your short Irons. Ordered as custom, suggested sets are 4i–6i or 4i–7i in ZX5, and 7i–PW or 8i–PW in ZX7. Other combinations are also available.
TOUR

PREFERRED
ZX7 + ZX Utility
This combo set is the most popular with our professional tour staff due to its extremely forgiving long Irons and highly workable short Irons. ZX Utilities are available in 2i–4i and usually selected by players seeking more forgiveness over traditional long Irons